Southampton v Manchester United: Premier League – live! | Football
By
Virginia Paula
2 years ago

09:38
36 min "Are we absolutely sure the kit isn't grey?" says Richard Hirst.
Ha. They actually started really well, though they've been a mess since going behind.
Updated


09:37
35 min That was a mistake from de Gea, a woolly save from Djenepo's long-range shot that almost gave Armstrong a tap-in. Armstrong tried to control it on the chest but the ball ran out of play. In fairness to de Gea, he's struggling with his left leg and may have to come off. His knee thumped into the post when he tried to save Ward-Prowse's free-kick.

09:35
It was an excellent free-kick from Ward-Prowse, clipped over the wall towards the near post. David de Gea flew to his right and got a good hand on the ball, but he couldn't keep it out. At first I thought it might be a mistake from de Gea; on reflection I don't think so. Ward-Prowse put it right in the corner, and if anything de Gea did well to get a touch on it.
Updated


09:33
32 min Djenepo is fouled this far outside the area by Fred. It's a fair way to the left of centre, but still within shooting range for Ward-Prowse.

09:32
30 min: McCarthy makes a great save from Fernandes! How did that stay out? It started when McCarthy played a dreadful pass, straight to Greenwood 30 yards from goal. He ran into the D and blasted a low shot that McCarthy could only push away as far as Fernandes. He seemed certain to score, but McCarthy plunged to his right to make a brilliant save at full stretch.

09:29
28 min Djenepo dances past Fernandes and then Telles in the area before cutting the ball back towards the six-yard line. A United defender boots it behind for another corner. Ward-Prowse swings it in and Fernandes clears.

09:28
27 min: Walker-Peters hits the post! It's all happening now. Adams plays a good square pass to find Walker-Peters in space, 25 yards out. He moves into the area and drives a low shot that takes a deflection off Telles and spins onto the outside of the post.

09:27
25 min United have conceded the first goal in all their away league games this season. They won the first three; now they need to go to the well again.

09:25
24 min Southampton's injury-time equaliser at Old Trafford in July also came from a wicked Ward-Prowse corner.

09:25
Ward-Prowse's corner was a beauty, curled at pace towards the near post. Bednarek got between Rashford and Telles in the six-yard box and flicked a simple header past de Gea.

09:23
23 min Ward-Prowse's excellent free-kick is headed behind by Lindelof. Ward-Prowse jogs across to take the corner…

09:23
21 min "Hiya Rob," says Adam Kline-Schoder. "I was lucky enough to see Ajax live pre-exodus a couple years back. De Jong and de Ligt were immense, but Van de Beek was quietly brilliant. He was a true box-to-box midfielder; I remember him both dropping back to receive the ball from Onana inside his own box alongside de Jong, and also making the late run into the opposition box to score. I'm not seeing that same level of dynamism from him at United, which (as a Southampton fan) for today is great, but in the long run is something by which I'm disappointed because he was sublime a few years ago. Do you think that's a 'lack of game time and will improve if he's allowed to settle' type of thing, or a 'United's midfield is a bit suspect so he needs to be more positionally disciplined' type of thing?"
It's hard to know at this stage, especially as he has started so few games. It's probably a bit of both.

09:20
19 min Southampton are struggling to get out of their half. It's been a surprisingly one-sided game so far.

09:19
18 min "On the picture at the top of the blog, the Utd strip could almost look grey," says Richard Hirst. "Or am I just being hopeful?"
I thought that as well, but apparently it's legacy green and black.

09:18
16 min: Fernandes hits the post! This has been a really good start from United. Rashford plays a square pass to find Fernandes, 25 yards from goal. He has a quick touch and then hammers a shot that takes a slight deflection and hits the outside of the post. McCarthy was well beaten.

09:15
14 min Fernandes is crumped by Romeu, who is a bit fortunate not to get booked.

09:13
12 min United continue to dominate possession. Southampton haven't really pressed them, which is a little surprising.

09:11
10 min "After the non-stop rush of Everton v Leeds," begins Mary Walsh, "this fixture seems more like checkers at the retirement home."

09:11
9 min I'm glad a penalty wasn't given for such an innocuous tackle, but I'm not entirely sure what the difference is between that and Andy Robertson's challenge yesterday.

09:10
8 min: VAR check for a Man Utd penalty. It would be soft but it might be given, certainly in view of some recent precedents. Ward-Prowse tried to kick the ball, missed and made slight contact with Rashford, who then went down. Martin Atkinson, the man in charge of VAR, decides it wasn't a clear and obvious error. No penalty.
Updated


09:08
7 min: Greenwood misses a great chance! United should be ahead. Telles stabbed a hopeful pass towards the edge of the area, where Vestergaard and McCarthy left the ball for each other. The alert Greenwood nipped in and went smoothly round McCarthy, only to slide the ball into the side netting from a tight angle. By his standards that was a bad miss.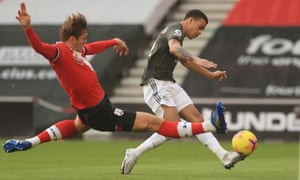 Updated


09:07
6 min United have had plenty of the ball in the early minutes, though most of it has been in the middle third of the pitch.

09:02
1 min United are playing a midfield diamond, with van de Beek to the left and Fred to the right.

08:59
The players are ready for business. Southampton are in their Peru-style home kit; United are wearing their legacy green (sic) and black away strip.

08:57
"Big worry today is conceding free kicks in the Ward-Prowse range," says Duncan Edwards. "Yes I'm looking at you, Fred."

08:43
Who doesn't need another podcast in their life?

08:02
Team news
Donny van de Beek starts a Premier League game for the first time, though it's not entirely clear where he'll play – United's formation could be 4-2-3-1 or a diamond. I suspect the latter. Either way Marcus Rashford will be up front in the absence of Anthony Martial, who became ill overnight.
Southampton are unchanged from the team that drew at Wolves on Monday.
Southampton (4-2-2-2) McCarthy; Walker-Peters, Bednarek, Vestergaard, Bertrand; Ward-Prowse, Romeu; Armstrong, Djenepo; Walcott, Adams.
Substitutes: Forster, Stephens, Diallo, Tella, Long, Obafemi, N'Lundulu.
Manchester United (possible 4-D-2) de Gea; Wan-Bissaka, Lindelof, Maguire, Telles; Matic; Fred, van de Beek; Fernandes; Greenwood, Rashford.
Substitutes: Henderson, Fosu-Mensah, Williams, Tuanzebe, Mata, James, Cavani.
Referee Jon Moss.
Updated


05:55
Preamble
Hello. Even when Manchester United were the best team in England, Southampton were awkward opponents. They knocked United out of the FA Cup in 1992 and beat them at the Dell in three consecutive seasons from 1995-98. In the post-Ferguson era, they've been even trickier. United have won only six out of 15 games against Southampton in that time, and three of those victories were an affront to the run of play.
This should be a really interesting match. Styles make fights, and Southampton's high-energy, high-pressing game has given United plenty of problems since Ralph Hasenhuttl took over as manager. But they are without their best player, Danny Ings, so it isn't the worst time to play Southampton. And it's at St Mary's, which suits Ole Gunnar Solskjaer's side: they've won their last seven away games in the Premier League.
It's hard to know whether it's a good time to play United, because you never quite know which version will turn up. When they're good, they're very, very good, but when they're bad…
Kick off 2pm.
Updated